Item in this Gallery
View the Virtual Showrooms.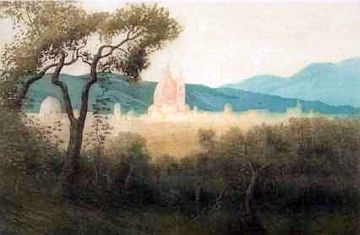 Florence from Mount Olivet
Seeber # 39
George Elbert Burr (American 1859-1939)
Signed lower left. Titled lower center. Number 33.
Noted: 100 proofs and print in first finished state.
MEDIUM:
Color etching & Aquatint
DIMENSIONS:
6-1/8" x 9-1/4"
Contact Covington Gallery for availability and pricing of this work, plus others in the collection.
You can email us at covingtongallery@comcast.net.
Or, you can call 520.298.7878
Tuesday and Wednesday - Friday and Saturday: 10 am - 3 pm, MST
Sunday, Monday, Thursday: Closed


Item in this Gallery
View the Special Collections.